This article contains information that spoils the series finale. Read at your own risk. Beatrice Eleanor Hufnagel-Duckman is a recurring character of Duckman: Private Dick/Family Man. She was Duckman's very beautiful first wife and the mother of Ajax, Charles and Mambo.
Character
She grew up in North Dakota, a place she describes as a place with a way of life that was so different... even privative.
Duckman met her in a farming county in Iowa while working for a magazine that sent him to take pictures of covered bridges.
They spent a lot of time together and quickly fell in love.
Beatrice seemed to share a bit of Duckman's sexual perversion, and even states that Duckman kind of reminds her of her papa.
However, she turned out to be married to a chicken named Richard, whom she states she loves but is not in love with.
Richard had a heart attack inadvertently caused by Duckman, who told him the truth of their affair in overbearing detail.
Soon afterwards, she found that she was pregnant with Duckman's first son, Ajax.
The two were married for roughly fifteen years, until she was killed in an accident.
(Duckman had flicked his cigarette out into the street during a parade and it hit a balloon which deflated and knocked her down a manhole.)
Duckman idealizes his love for her. Despite his puerile tendencies, he never cheated on her and felt extremely guilty about pursuing other relationships even a year after she had died.
Not much is known about her extensive life with her family, as most of what we know about her comes from the memories of her husband, children and sister.
In all of these memories she is remembered as being wonderful to those around her.
In Four Weddings Inconceivable, it is revealed that she wasn't dead all this time and Cornfed knew about this, but never told Duckman for unknown reasons.
Character Conception
In the original comic strips Beatrice was alive and sported Bernice's outfit, along with her obsession with working out.
When the show went to series and the characters were re-worked Bernice was created and inherited those traits. Other then that, Beatrice's personality remained pretty much the same.
Last Will and Testament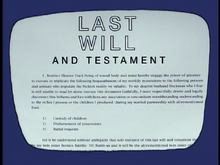 The beginning of her will is shown in Married Alive, and it reads:
I, Beatrice Eleanor Duck being of sound body and mind hereby engage the power of attorney to execute in triplicate the following bequeathment of my worldly possessions to the following persons and animals who populate the Peckish reality we inhabit. To my dearest husband Duckman who I fear is still unable to read let alone execute this document faithfully, I must respectfully delete and legally disconnect him hitherto and fore from any association or concomitant notwithstanding understanding to the riches I possess or the children I produced during my marital partnership with aforementioned fowl.
Custody of children
Disbursement of possessions
Burial requests
Let it be understood without ambiguity that sole executor of this last will and testament shall be from my twin sister Bernice Batrille NE: Battle-ax and it will be the aforementioned twin sister of...
That's how much of the will is shown on screen, the rest remains unseen.
In said episode, Baron von Dillweed's lawyers found a loophole in the will that states "They can go with whoever can offer them the best deal" in reference to custody of Beatrice's children.
Appearances
Flashbacks, photos, dreams, etc.
I, Duckman (her gravestone, in the home movies)

Duckman Comics #1

The Mob Frog Saga Issue 2
Gallery
Trivia
Beatrice states that her father taught Playing Cards and the Human Form at the local university. Trigorin was never stated to have done that, so it stands to reason that her mother Sophia (Grandma-ma) had remarried after Trigorin had died.
Beatrice's middle name is shown in Married Alive, when her last will and testament is seen on screen. Her name is shown as Beatrice Eleanor Duck.
In Bev Takes a Holiday, it's revealed that Duckman had names for her breasts. These names were "Buttercup" and "Ilsa".