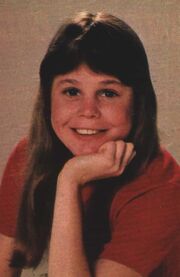 Dana Hill was an American actress and voice actress. One of her most notable roles was as Max Goof in Goof Troop and Jerry in Tom and Jerry: The Movie. She voiced Charles.
In 1996, Hill died from complications related to diabetes. The episode "Ajax and Ajaxer" was dedicated to her memory and her character of Charles was voiced by Pat Musick.
A side-effect of Hill's life long condition was that her body remained fairly under-developed. Her mother described her as a "woman-child" and felt she was never given a chance to grow up. For her entire life, she had the appearance and voice of a child, which allowed her to play children well into her 20s and 30s. She played a little girl in Fallen Angel who is the victim of sexual abuse, which allowed for more explicit scenes. She mostly played young girls on screen, but was also known to play boys on several occasions. Elizabeth Daily credited Hill with teaching her how to play a boy.
On July 15, 1996, Hill died at the age of 32. Her health had began to fade earlier that year as her diabetes damaged her kidneys. In May 1996, she was hospitalized a number of times before slipping into a diabetic coma. In June, she suffered a paralytic stroke. She did awake several times, but could only communicate by blinking her eyes. Her mother described her death as her soul finally being freed from "...that ruined physical body..."
Notable Roles
Edit
Fallen Angel - Jennifer Phillips
Shoot the Moon - Sherry Dunlap
The Two of Us - Gabby Gallagher
National Lampoon's European Vacation - Audrey Griswold
Adventures of the Gummy Bears - Buddy Gummy
Rover Dangerfield - Danny
Tom and Jerry: The Movie - Jerry
Goof Troop - Max Goof
The Hunchback of Notre Dame - Little Girl
Duckman - Charles Duckman