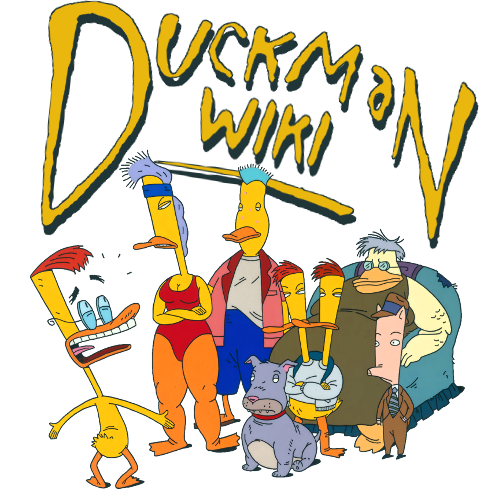 Welcome to the Duckman Wiki! A collaborative online encyclopedia dedicated to everything known of the animated series Duckman: Private Dick/Family Man that anyone can edit!
About Duckman
Edit
Duckman: Private Dick/Family Man(commonly known as Duckman) is an American adult animated sitcom that aired on the USA Network from March 5, 1994 through September 6, 1997. It was created and developed by Everett Peck. The sitcom is based on characters created by Peck in his 1990 one-shot comic book Dark Horse.
Anivision and its parent Sunwoo Entertainment animated the series and was produced by Klasky Csupo and Reno & Osborn Productions for Paramount Television. It marks Klasky Csupo's second adult-oriented television series after the first three seasons of The Simpsons on the Fox Broadcasting Company. Years after it came out, Peck went on to create Squirrel Boy on Cartoon Network from 2006 to 2007.
The series centers on Eric T. Duckman (voiced by Jason Alexander), a widowed, lewd, self-hating, egocentric anthropomorphic duck who lives with his family in Los Angeles (as mentioned in the episode "Bev Takes a Holiday") and works as a private detective. The tagline of the show, seen in the opening credits, is "Private Dick/Family Man" ("dick" is a triple entendre).
Important
Edit
We at the wiki ask that you do not spoil the series finale in the articles. All information on this episode should be kept to the episodes article. Thank you for your cooperation.
The reason we ask this is that Duckman in recent years has become known as a cult classic, and as such has been gaining new viewers thanks to the internet. New fans coming to this wiki to look up information, gain insight on an episode or character, or just for fun don't want the series ruined for them. Let's be honest, Duckman is such a great show, why should we screw up someone's experience with it?
How You Can Help
Edit
Add Pages: Don't see a page for a character or episode? Make one!
Delete Wrong Information: Character study, speculation and analyses is fine, but if information on a page is just plain wrong, delete it. (e.g. episodes or characters that don't exist)
Fix it Up: If you notice grammar or spelling mistakes, fix them!
Bring Your Own Insight: Analyzing episodes and characters is tons of fun, and makes articles meatier!