What the hell are YOU starin' at?!
About Duckman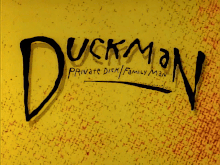 Duckman: Private Dick/Family Man
 (commonly known as 
Duckman
) is an American animated sitcom that aired on the USA Network from March 5, 1994, through September 6, 1997 and reruns were shown on both Cartoon Network Spain and Comedy Central. It was created and developed by 
Everett Peck
. The series is based on characters created by Peck in his 1990 one-shot comic book 
Dark Horse
.
Anivision and its parent Sunwoo Entertainment animated the series and was produced by Klasky Csupo and Reno & Osborn Productions for Paramount Television. It marks Klasky Csupo's second adult-oriented television series after the first three seasons of The Simpsons on the Fox Broadcasting Company. Years after it came out, Peck went on to create Squirrel Boy on Cartoon Network from 2006 to 2007.
The series centers on Eric T. Duckman (voiced by Jason Alexander), a widowed, lewd, self-hating, egocentric, anthropomorphic duck who lives with his family in Los Angeles (as mentioned in the episode "Bev Takes a Holiday") and works as a private detective. The tagline of the show, seen in the opening credits, is "Private Duck/Family Man" ("duck" is a triple entendre).
Browse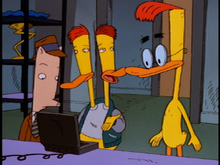 Some quick
Duckman
categories to take a gander at and start browsing.
...Maybe even help spruce up any corners that look less than ideal?
How You Can Help
A brief layout of the rules and regulations for the
Duckman
Wiki.
External Links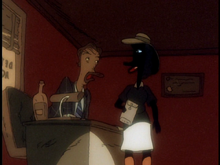 Here's some extra 
Duckman
-related websites and affiliates!